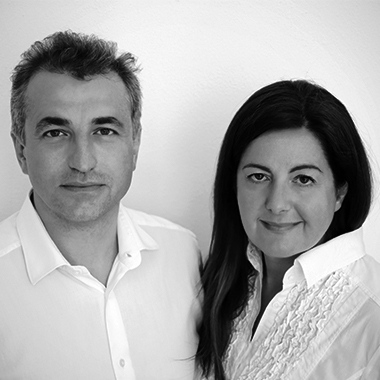 Alberto Basaglia y Natalia Rota Nodari
Alberto Basaglia and Natalia Rota Nodari have been working on interior design projects and building construction since 1997, both for the furniture and the food sectors, with the objective of creating a design with pure lines and contrasting character.
In 1999 they were awarded the "Young & Design" prize, highlighting their ability to analyse the company in relation to the potential needs of its clients, interpreting these in the characteristics of the product.
They were also awarded the "GoodDesign 2007" prize for a modular library program.
They designed the L001 lamp, the first produced by Pedrali, allowing the company to expand its contract offer, also in lighting. They supported the lamps, L002, Time Out, Happy Apple and the Colette series, which have contributed to enhance the Pedrali collection even in the most intimate spaces.
 "Interpreting the specific energies of the interlocutor himself and finding ways to enhance them through the creation of alternative visions is a fascinating challenge," they commented in 2013, at the inauguration of the personal presentation "Alternative Synergies. 15 years of projects for companies" held in Milan at the Achille Castiglioni Foundation.